First Annual Business Kids Fair 
The Business Kids Fair is an one-of-a-kind youth entrepreneurship event for kids in Southern California. This one-day business fair gives kids the opportunity to develop a brand, create a product, and launch their very own startup business. It is a unique experience for young minds to practice marketing, creativity, communication skills and community responsibility!
CALLING ALL YOUTH TO BECOME BUSINESS KIDS
We will host up to 30 booths at the first annual Business Kids Fair at this year's KidsFest Expo on October 14th, 2018 from 11 am – 3 pm. If you are aged 8 to 14, have a great business idea and want to make money, the Business Kids Fair is for YOU. Become an entrepreneur for a day, and compete to win prizes!
Date and Time: 10/14/18 11am – 3pm
Location: Arcadia Community Center, 365 Campus dr., Arcadia, CA 91007
FREE Admission; FREE Parking at Arcadia Performing Arts Center, 188 Campus Dr.
Registration Fees: $12 per booth for early bird; $15 after 10/1/17 (include 1 table, 2 chairs)
Booth Categories:
– New Items (e.g. handmade, DIY, original artwork, etc)
– Used Items Resale (e.g. gently used toys, books, clothing, video games, sports equipment, etc)
– Game Booth (with prizes/giveaways)
Please note that NO FOOD can be involved!
For any questions, please call 323.728.7200 or email info@lajajakids.com
** If you are interested in being one of our business kids this year, please register below application and write a brief proposal about what you're going to sell, goals and objectives, who are you target on**
**NOTE: The selling of food and beverages is prohibited**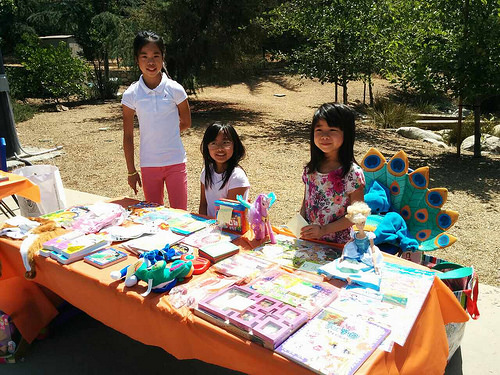 活動簡介
小小創業家活動是以鼓勵兒童創業為主題,讓小朋友在自行設計、製造、行銷、銷售的過程中,體驗和了解創立一門生意所需面對的各種問題,從玩樂和互動中學習生產成本、行銷手法、客戶需求等商業元素,認識商業世界的運作模式,為未來成長培養關鍵的能力。
開一家公司需要什麼樣的條件?當老闆要做哪些事情?如何將創意變成賺錢的生意,並創造品牌價值以回饋社會?
每個小小創業家都要自己設計產品,想辦法有效率的製造產品,製作行銷廣告,更要實地販售,賺取利潤。這個活動能激勵孩子對商業社會的觸覺,啟發創業家的精神,打造鼓勵孩子敢於嘗試的勇氣。
第一屆《小小創業家》兒童商展為小朋友提供一個難得的機會,培養團隊合作、領導力、人際互動等生活的關鍵能力,而這些能力正是「創業家精神」的展現!
參加我們,成為《小小創業家》一份子!
我們將在今年 10月 15日的親子童樂日設立第一屆《小小創業家》兒童商展!現場將設立三十個商業攤位,歡迎 8-14歲小朋友將自己的精彩商業 idea 變成真正的生意,當一個創業家,還有機會贏得創意大獎呢!
請去下面的表格報名參加及把你的詳細創業計劃電郵到info@lajajakids.com,計劃裡可以包括,你要賣什麼、為什麼你會賣、、你的目標、你會賣給誰等。
報名費:$12 早鳥;10月1號後$15 (含攤位桌椅)
10月14日截止報名
查詢詳情:電郵 info@lajajakids.com 或致電 323.728.7200
《小小創業家》是由丫丫園地籌備舉辦的社區活動。歡迎社區人士及商業持及贊助,並歡迎家長及個人捐助和擔任義工。